LigandScout
Advanced Pharmacophore Modeling
LigandScout is the most user friendly integrated platform for molecular design and accurate virtual screening. It offers seamless workflows, starting both from ligand- and structure based pharmacophore modeling, and includes novel high performance alignment algorithms for excellent prediction quality with unprecedented screening speed. Additionally, we have included user-friendly screening analysis tools, including the automated generation of ROC curves for performance assessments. All functions are accessible through a well elaborated graphic user interface that reflects our years of experience in creation of the most user-friendly pharmacophore modeling tools. The algorithms are scientifically validated and based on our well-established knowledge in pharmacophore research, while the application corresponds to state-of-the-art information technology.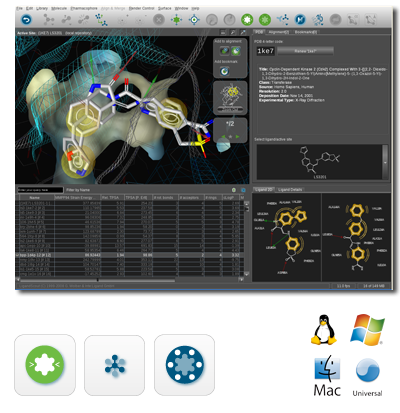 The algorithms are scientifically published [1-4] and based on several years of experience in pharmacophore creation, while the application corresponds to state-of-the-art information technology. Support for various common pharmacophore formats like the export to Catalysttm, MOEtm or Phasetm guarantee maximum interoperability to screening platforms. The full-featured 3D graphical user interface with multiple undo-levels makes the exploration of the active site and pharmacophore creation within the complex efficient and transparent. Binding site analysis, pharmacophore-based alignment and the creation of shared feature pharmacophores are designed to make LigandScout an essential tool for structure-based drug design in combination with virtual screening. LigandScout runs on all common operating systems.
Free evaluation: You can download a fully functional version and test it for one month by registering. For longer or scheduled evaluation periods, further information or scientific questions contact our support team (support@inteligand.com).